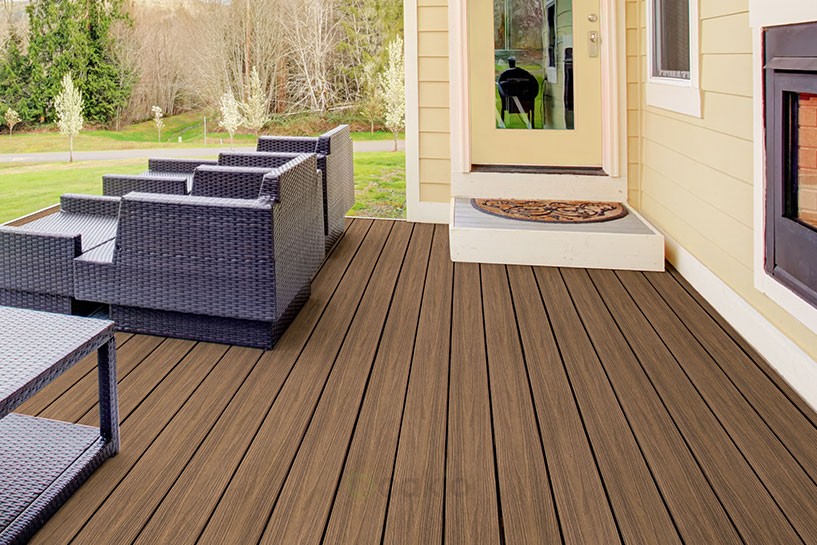 Read Time:
2 Minute, 51 Second
It is said that there is a wood-plastic composite floor for outdoor use in the flooring market, which is very popular because the material of this floor is very environmentally friendly and does not harm the human body.
People have always wondered what material is best for outdoor flooring. Some experts say that future plastic wood composite flooring will replace solid wood flooring and become a new trend in the outdoor flooring industry. WPC outdoor flooring is mainly composed of wood (wood cellulose, plant cellulose) as basic materials, thermoplastic polymer materials (PE plastics) and auxiliary processing agents, etc. High-tech green and environmentally friendly materials, produced by heating and extruding with pressing equipment, have the properties and characteristics of wood and plastics. Outdoor Plastic wood flooring is now the best outdoor flooring.
Pool WPC flooring plank floors, Balcony or garden plastic composite floors
Plastic wood composite deck has the same processing performance as logs, can be nailed, drilled, cut, glued, and fixed with nails or screws, smooth and fine surface, no need for gloss and paint, good adhesion to paint, and can also be painted according to personal preference.
Engineered wood flooring has better physical properties than logs, and better dimensional stability than wood, resulting in cracks, deformations, no wood knots, twill, adding dyes, mulching, or composite surface layers to produce colored products, so no regular maintenance is needed.
Plastic wood flooring has different uses for outdoor
Plastic wood flooring can meet different specifications, dimensions, shapes, thicknesses, and other requirements, including providing a variety of designs, colors, and wood-finished products to give customers more options.
Plastic wood flooring has good properties such as fire resistance, waterproofing, corrosion resistance, moisture resistance, insect moth resistance, no long fungi, acid, and alkali resistance, no poison, no pollution, and low maintenance cost.
Plastic wood floors are a new type of ecological and energy-saving composite material that replaces wood. It can be used in garden landscapes, indoor and outdoor wall decoration, deck wood, barrier, flower pool, pavilion, etc.
Outdoor installation is also easy. For outdoor installation. There is no click installation, but the boards are installed on special support bars. (black in the picture), if your floors are perfectly level like concrete, you can lay these bars directly on the ground.
In most cases, however, we need to place special circular adjustable supports so that the floor is perfectly level even on uneven ground.
Installing WPC flooring is very easy
This indoor and outdoor material comes in various styles and colors. If you like the look of hardwood, you can find WPC boards that closely mimic the look of hardwood. It will still look synthetic, but only with sharp eyes.
You'll also find a tile look or simple stripes, as seen in the image above. The color options for WPC flooring are pretty wide, so I believe you will have no problem finding the best one.
The foam is injected into the core layer of the WPC boards. This serves to make a very strong durable product lighter. The foam and bottom of the board also allow this type of flooring to provide some cushion underfoot and provide some sound absorption.
With WPC flooring, you shouldn't experience that hollow clicking sound that you normally associate with vinyl. In addition, WPC traps a certain amount of heat and is warmer than other types of hard flooring such as tiles when used indoors.