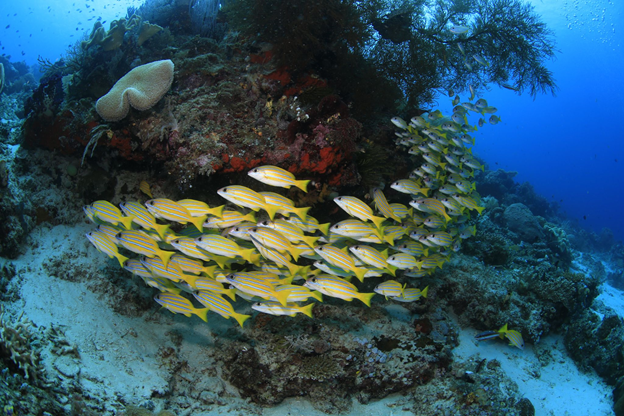 Read Time:
3 Minute, 35 Second
Source: https://www.indonesia.travel/
Are you a true adventurer of tourist attractions? That is, this one tourist location in Likupang is worth exploring. Napomanu Island is an empty island surrounded by mangroves and white sand. The stretch of white sand on this island is called 'Nyare Panjang'. This location is very instagramable if you come at low tide. The stretch of white sand overlooks the mangrove forest and a group of islands still in this location. If you visit at high tide you can enjoy the white sand in the middle of this island. The location is right opposite the boat entrance between the Mangrove Forest of Sarawet Village.
For those who like fishing or want to learn traditional fishing, snorkeling or diving, this is the perfect place to visit. It's just that for snorkeling and diving you have to rent the equipment at a rental place in a neighboring village or bring your equipment.
There are various kinds of fish that live around these waters. Even several times, mermaids appear at this location. It turns out that from a long time ago, between the mangrove forests of Sarawet and Napomanu Island, this was a place for mermaids to play. No woncal residents have traditionally known this location as 'Napo Duyung', duyung means mermaid.
This island is located in Sarawet Village, East Likupang District, North Minahasa Regency, North Sulawesi Province. This island is an empty island that has not been much 'touched', and to reach it can be through several boat mooring points in the local village.
The best point is via the boat mooring at Sarawet Village, Jaga Satu. You can also go through the Jaga Dua Dusun Kualabatu or the boat moorings in the Rasaan Hamlet. Especially for Sarawet Village, Jaga Satu only takes 10-15 minutes if you use a motorboat. If you want to paddle traditionally, it takes 30-50 minutes, depending on the number of rowers and the boat's contents.
The Old Law of Sarawet Village, Jenny Pakaya said that there are many local fishing boats called sem-sema boats to Napomanu Island every day. In Sarawet Village, Jaga Satu is available for tour guides, namely fishing groups, and youth groups. "Although not yet professionally, the residents here have taken guests to Napomanu Island several times to tour, take photos. Lastly, guests are from national television journalists who cover many things on this island," he said.
This location is still very pure, so the local government hopes that residents should accompany tourists who want to go to Napomanu Island. "Napomanu Island is very potential to be developed as a tourist spot. It's just that from the beginning our ancestors were very protective of this place so that there are local myths or beliefs that should be preserved together for the common good," said Ever Jois Rondonuwu, one of the traditional elders of Sarawet Village.
According to Rondonuwu, myths or beliefs are related to the future of humans. You could say that the myth or belief is the same scientifically, namely not to destroy the mangroves, not to fish with bombs or poison, and not to shout while walking through the mangroves to Napomanu Island.
"Our parents' belief was long ago, if someone comes to visit this island with good intentions, the future will be good. On the other hand, if you violate these 'rules', your future will not be good, for example sick, poor, difficult to match, short-lived and difficult to live happily. It's actually a normative law in human life," he said with a smile.
Well, the rules are indirectly the same in any tourist location. Of course, to be able a tourist destination must be kept clean and preserve the surrounding nature.
Back to the beauty of Napomanu Sarawet Island, it turns out that this location has also been a refuge for local villagers during the Permesta war. In addition, it is said that there are treasures stored on this island.
Many people also believe it because this island is located between Munte Harbor and Likupang Dua Harbor, which used to be the entrance for pirates and sailors from Spain, Portugal, the Netherlands and other foreign traders.
Before you plan a trip to Likupang, be sure to read more about Likupang and Indonesia by visiting Wonderful Indonesia.